Kashmir Great Lakes Trek. From A Teenager's Perspective
Kashmir Great Lakes Trek
As a 15 year old, a 6 day trek can sound pretty daunting. After all, it's 6 whole days in which you have to really exert your body and your mind. That isn't something I wanted to do during my summer break. Plus it was also a whole week without WiFi, and all teenagers know how that feels. However, this was definitely not the case. It was an amazing experience that made you feel close to nature and made you feel isolated from civilization (in a good way). Let's break it down.
Let's talk about the scenery. It was beautiful, the foothills of the Himalayas are extremely tall, and make Mission Peak (the tallest point in the Bay area, California, where I live) look like a little baby mountain. We saw glaciers that were as big as the Bay Area on day 1, where the elevation was just 2734 meters (m), And those glaciers melted into beautiful rivers and streams that had cool, fresh water that tasted amazing. I saw shepherds, sheep, and goats, walking in huddles across valleys and meadows. Now the hike's name was Kashmir Great Lakes, so as you can probably guess we saw many lakes as well as rivers. There were also beautiful flowers and meadows that had a 360 degree view of mountains. The scenery was amazing and the Great Lakes of Kashmir trek truly lives up to its reputation as the most beautiful hike in India.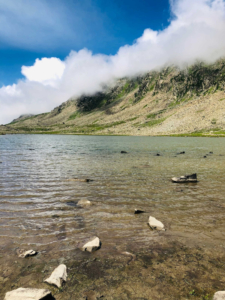 Now let's talk about the hike. Each day after breakfast, the walking ranged from 5-8 hours. We would usually wake up at 6:30am and leave around 7:30am. The highest point in the hike was about 4190 m, and that day (day 3) had the steepest climb. Most of the days ended with a nice flat walk through a meadow. However, day 4 and 5 had a lot of rocks. Day 5 had some rocks that were as tall as houses, and the day we went it was foggy and rainy making it seem impossible to climb through all of those rocks. Some of the days when the hike was like 7 hours long, we would have lunch on the way, but on shorter days, we had lunch when we reached the next campsite. The hike was mainly like this. A steep climb, followed by a descent and a walk through a meadow. The highest point on the hike was 4190 m tall. The hike started at 2734 m in Sonamarg and ended at 2128 m in Naranag, covering a total distance of 68 kilometers (about 43 miles). The "roads," were trails of dead grass, however around rocky areas the roads were a little hard to see, and you really needed a guide to, you know, guide you through the rocks. The only hard part about this hike was downhill when it was raining, Because then it would be muddy and slippery. There were also loose rocks which you needed to watch out for. If you wanted to sit down you either had to sit on a rock or just on the dirt. Because me and my sister are pretty young, we asked for an extra horse so we could ride if we got too tired. I rode the horse for some time, for the first 2 days, but then I just went on my own.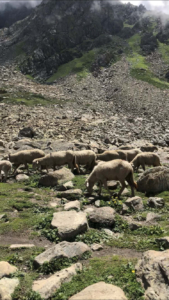 Now let's talk about the tenting and the campsites. Usually we reached the next campsite around 1:00-3:30pm. The campsite was always next to some water source, either a lake, or a river. The campsite had a dining tent, a kitchen tent, a tent for the 4 of us, and 2 individual tents because we had 2 other people in our group. As I said before there was a guide, but there were also 2 horsemen, 2 helpers, and finally one cook. They put foam padding on the floor of the tent so that we didn't feel any rocks or anything on the ground. The sleeping bags that they gave us were fleece lined, so even when it was cold outside we would still be warm. The food was amazing. It was all vegetarian, but there was one day when we were near a lake with a lot of fish, and that day we had some very good fresh fish. Usually the food had dahl (lentils), rice, and sometimes rotis (flatbreads), which were made fresh every time we had them. We also had Maggi, which is basically instant noodle heaven. At the campsite there wasn't much to do so I got a few offline video games I could play, but we also played cards, UNO, and cricket with a stick instead of a bat. We would also sketch, and if we were really bored, we would chase around chickens and sheep. For breakfast, we had jam bread, omelete, as well as cereal or porridge. We would brush our teeth with a brush, paste, and some water they boiled from the river or lake. After breakfast, we got our backpacks ready, put our hiking shoes on and started the journey.
This hike taught me a lot of lessons. As a kid from an urban area, you don't understand the lives of those who aren't as fortunate as us. On this hike I got to see how the people in mountains live, and how they are concerned about different things than us. We are worried about our school and friends. In the mountains, they are enjoying life at the moment. I also learned perseverance. I would often be tired by halfway, and I would want to quit, but once I saw everybody else right behind us, I wanted to keep going, I HAD to keep going. There wasn't a choice to just turn back and go the other way, you had to keep going. The last lesson I learned was focus. In school I like to zone off while the teacher is teaching sometimes. Here, I had to focus on every step because if I slipped I could have tumbled down the mountain, which would be pretty bad.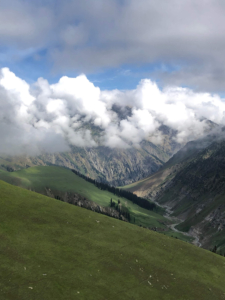 I think this hike was a very valuable experience for me as it made me focus on things like nature instead of checking my phone every 2 seconds. I think that if you have the chance you should try hiking Himalayas. Hikes keep you away from your technology and help you live in the moment. Thank you for reading my blog.